Plexiwire Basic Clear Resin– transparent resin for 3D printing on DLP and LCD printers. This resin is ideal for creating transparent, durable objects with minimal shrinkage. UV Basic Clear 3D printing resin has been specially developed to produce extremely transparent objects with a smooth, shiny surface.
And the ability of materials to mechanical grinding will make your products completely transparent, according to industrial standards. This resin is compatible with most DLP, LCD and SLA printers, including FormLabs, and requires no additional knowledge or experience to use.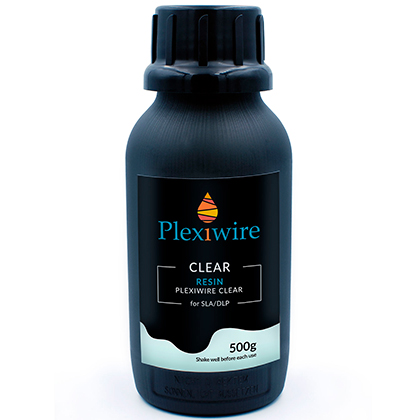 Plexiwire Basic Clear Resin - is:
Transparency - you will get transparent parts like glass or transparent plastic.
Durability - the printed parts have high strength indicators, which gives wide opportunities for use.
Durability - the resin is resistant to aggressive environments.
Accuracy - Plexiwire Basic Clear products have very little shrinkage, which allows printing high-precision models.
PLEXIWIRE BASIC CLEAR RESIN FEATURES
Recommendations:
For grinding, a wide range of pastes can be used to obtain a transparent part.
For post-processing, we recommend using additional lighting equipment with camera heating.