Plexiwire Resin Model Plus is a photopolymer resin designed for LCD and DLP printers. It is a continuation of the Model series and was developed based on requests to improve the properties of Plexiwire Model resin. As a result, Resin Model Plus is less brittle than a model, with an average 25% increase in strength properties. Thus, Plexiwire's Model Plus becomes more suitable for printing functional prototypes.
The critical difference between Model Plus resin and the standard Model series resin is the improved characteristics that provide less brittleness. Compared to Plexiwire Model, Model Plus resin has a higher relative strain, making the material less brittle. This is 1.5%, which, while indicating brittleness, is three times higher than that of Resin Model resins.
Moreover, the Model Plus resin has improved strength properties compared to Plexiwire Resin Model. For example, the ultimate tensile strength, representing the force required to tear a sample, is 25 MPa, 25% greater than Plexiwire Resin Model.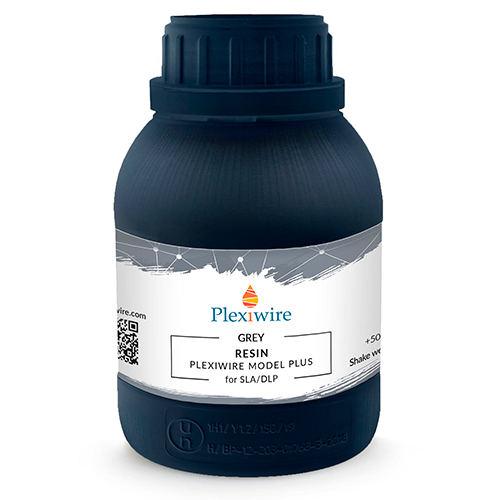 Plexiwire Resin Model Plus is:
Strength - the strength characteristics of this resin allow it to be used for printing functional prototypes.
Accuracy - the resin has less shrinkage than Resin Model, which allows the resin to be used for more than just basic modeling.
Chemical resistance - like the other resins in this series, Plexiwire Resin Model Plus does not react with many chemically aggressive media.
Speed - this resin will take 3 seconds for most printers to print base layers.
Ease of use - although this resin is more suitable for professional use, Plexiwire Resin Model Plus is just as easy to start printing without much experience.
Versatility - the resin is perfect for all DLP and LCD printers that support manual print settings.
PLEXIWIRE RESIN MODEL PLUS FEATURES
ELONGATION AT BREAK

1,5 %
Directions for use:
Plexiwire Resin Model Plus has a higher viscosity, so warming the resin before use is recommended to optimize the printing process and improve curing.
Model Plus takes longer to print, so it is recommended to start by setting the exposure time of the base layers to 3.5 seconds to test the print modes. The print speed can then be adjusted depending on the specific conditions and the model you plan to print.
Use isopropyl alcohol to rinse the model. Because the resin is more viscous, it takes longer to rinse a printed model than it does to flush models made from lower-viscosity resins.
Printed models require additional afterglow after printing and rinsing. Use specialized devices or lamps with a 405 +- 5 nM wavelength.