Plexiwire PETG is a filament that has universal printing properties and is suitable for solving wide-ranging problems. PETG combines glycol with standard PET material to eliminate fragility. As a result, durability and tensile at break are improved. PETG is an industrial-grade 3D printing material designed to work in extreme conditions. It is resistant to oils and fats. The thread does not decompose over time and is not exposed to ultraviolet light. Use it to test your prototypes in a variety of industrial environments. Low shrinkage allows 3D printing of complex mechanical elements as well as final components. The strength of the material can be used to create working parts designed for loads such as springs, shock absorbers and manufacturing tools. PETG is a reliable solution for demanding professionals.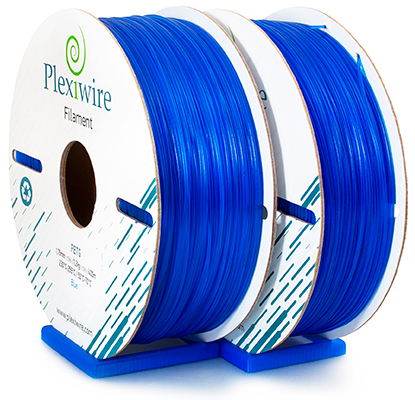 Plexiwire PETG is:
High strength - PETG is stronger than ABS or PLA and less fragile
Ultraviolet resistance - models printed from PETG plastic serve outside for a long time
Minimum shrinkage - PETG is great for printing small and precise details and for printing large models
Transparency - while unpainted PETG - is a transparent material that can be used to print transparent parts
Increased chemical resistance - PETG is not degraded by solvents and acids
CHARACTERISTICS OF PLEXIWIRE PETG FILAMENT
Extruder temperature

230°С - 255°С
Platform temperature

50°С - 70°С
Printing speed

30 - 80 mm/s
Weight

0.3 / 0.9 / 1.2 кg
Colors:
White

Black

Blue

Green

Natural transparent

Gray

Red

Yellow

Orange

Silver
Recommendations:
Adjust the retract - PETG can stretch into a thiner thread for a very long time, causing a print effect called "nozzles" due to the high value of the viscosity coefficient. To avoid this effect, do not overheat the filament and experiment with the retract
Dry PETG longer than other filaments - PETG is one of the most capricious moisture materials (after NYLON of course). We recommend drying PETG longer than other plastics.