ABS is one of the most popular and versatile materials for 3d printing. The low cost of ABS allows you to use it to solve common problems, such as prototyping and concept modeling with minimal cost, and the properties of the polymer allow you to use ABS in small-scale production, printing auxiliary tools and printing parts for many industries. Models printed from ABS plastic are easy to post-process, they have a smooth surface and are durable. ABS is very widely used in production around the world. The ABS properties in the 3d printing provide a model whose characteristics are not different from those obtained by other manufacturing methods, such as injection molding or extrusion.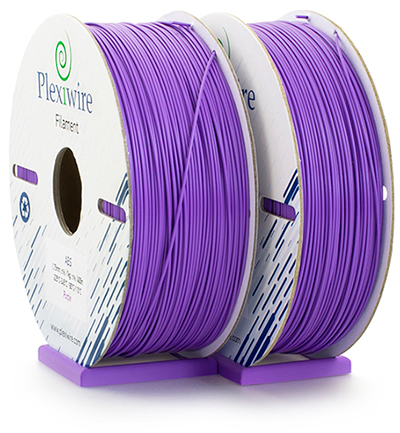 ABS is:
Strength - ABS is a strong polymer often used to solve engineering problems.
Durability - ABS plastic models maintain their properties well for a long time. However, ABS is not resistant to ultraviolet light, which reduces the durability of printed models with long-term contact with sunlight
Humidity resistance - in the finished model, the ability to take moisture is significantly lower than that of the ABS thread
Resistance to high temperatures - Withstands short-term heating up to 90-100°C
Resistance to aggressive environment - resistant to alkalis, lubricating oils, solutions of inorganic salts and acids, hydrocarbons, fats, gasoline
Color palette - ABS is widely represented in various colors, which are suitable for both technical and creative tasks
Characteristics of PLexiwire ABS Filament
extruder temperature

235°С - 250°С
platform temperature

90°С - 110°С
Size

100 / 300 / 400 meters
weight

0.25 / 0.75 / 1 kg
Colors:
White

Black

Blue

Brown

Gray

Green

Light blue

Lime green

Maroon

Natural

Orange

Pink

Purple

Red

Silver

Yellow
Recommendations:
Use ABS to print in FDM/FFF printers with closed build envelope. Due to the large shrinkage rating, it is recommended to exclude environmental factors that may affect the print results.
Prepare the printing platform before each printing session to ensure maximum adhesion of the printing model to the platform.
To improve interlayer adhesion, set the blowing to a minimum or turn it off. Also do not set the print speed above 65 mm/s.
Do not set the model filled density above 98%. Internal stress caused by shrinkage properties can disturb printing accuracy, impair adhesion.