Plexiwire PLA is one of the most popular filaments for 3D printing. This is a biodegradable material made from renewable plant products such as corn, and is not toxic and odorless in printing. Due to the ease of printing, PLA is popular among beginners in 3D printing. But also PLA does well with a wide range of professional tasks. This material is ideal for models with complex detailing and an exceptionally smooth surface. High hardness and very low shrinkage make the material well suited for 3D printing of high-precision parts that are not subject to high engineering requirements. PLA is also widely used in the printing of consumer goods. PLA is also a popular choice for 3D printing architectural layouts and complex educational models.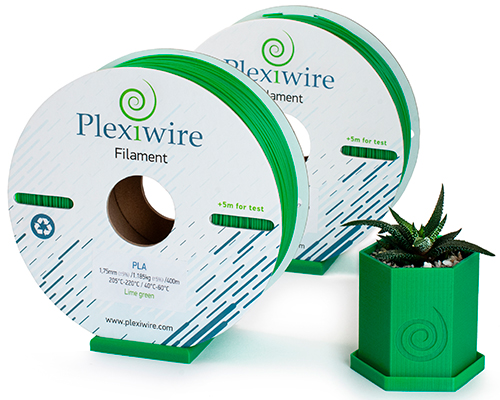 PLA is:
Safety - in terms of the use, this material is considered the safest in printing
Strength - PLA is strong and fragile plastic, the properties of which in terms of strength are very similar to ABS
Accuracy - PLA is great for printing accurate prototypes due to the very low shrinkage ratio and smooth surface of printed models
Adhesion - PLA has excellent interlayer adhesion in printing
Simplicity - a wide range of settings always allows you to get good print quality
CHARACTERISTICS PLEXIWIRE PLA FILAMENT
extruder temperature

205°С - 220°С
platform temperature

40°С - 60°С
printing speed

40 - 95 mm/s
coils

100 / 300 / 400 meters
coil weight

0.3 / 0.9 / 1.185 kg
Colors:
White

Black

Blue

Brown

Gray

Green

Light blue

Lime green

Natural transparent

Orange

Pink

Purple

Red

Yellow
Recommendations:
Use PLA to print accurate prototypes of parts and products. This material has minimal shrinkage, which will allow for accurate dimensions of the finished part, and a smooth surface.
Use PLA to print large models. Due to minimal shrinkage and good adhesion, printing of large models will be obtained without defects.
Use PLA with any type of FDM/FFF printers.
Use PLA when working with children. PLA is considered the safest plastic, does not hold or release harmful substances during heating.