Plexiwire Basic Rigid Resin is a strong and rigid 3D printing resin designed for engineering use of printed models. This resin is ideal for making objects with high tensile strength and hardness. The objects do not bend or compress easily and remain strong for a long period of hours. Has no shrinkage, which guarantees high printing accuracy.
According to its properties and application, it can be used as an analogue of ABS, PETG, and other similar polymers. The high-strength resin is compatible with most UV LCD and UV DLP printers on the market.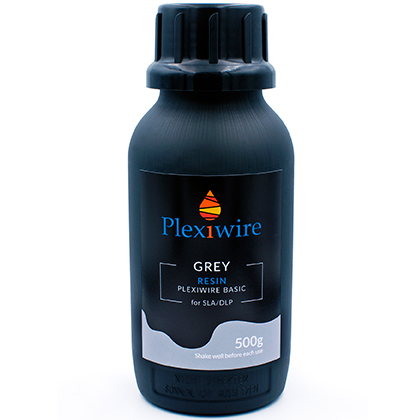 Plexiwire Resin Basic - is:
Strength - the modulus of elasticity is 3060 MPa and the tensile strength is 81 MPa.
Rigidity - models printed with this resin have a high degree of deformation.
Hardness - the material has a hardness index of 80 Shore D.
Low shrinkage - printed models have high carbon black accuracy for use in engineering projects.
Plexiwire Resin Basic Features
Recommendations:
The resin has almost no smell, it can be used in ordinary rooms without special ventilation.
The model is washed in alcohol solvents such as ethanol and isopropanol. If the model has many narrow hard-to-reach places, it is better to wash in an ultrasonic bath.
We recommend starting with tests to determine the optimal printing parameters on your printer.