Plexiwire NYLON Filament Plexiwire NYLON is an engineering filament with all the standards required for a complex engineering solution. NYLON has high strength, is resistant to high temperatures and various chemicals, also is resistant to most organic based solvents. NYLON is excellent in machining, like metal machining. One of the distinctive properties of this filament is high antifriction properties.
Nylon is very hygroscopic, so it is recommended to dry the filament immediately before printing. We recommend to store it in a sealed package with moisture relievers. Like all nylon-based materials, NYLON has a relatively high shrinkage, so it`s better not to use it in 3D printing large geometric shapes with steep slopes.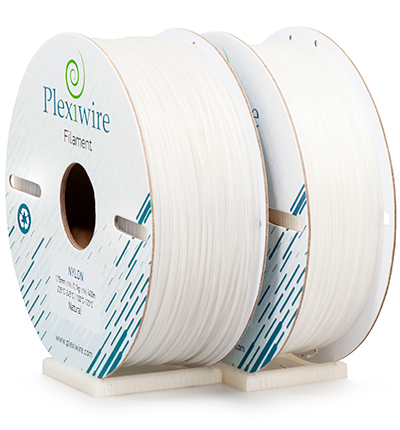 Nylon is:
Properties that meet complex engineering requirements.
High strength, durability, resistance to aggressive environments.
Resistance to high and low temperatures.
High antifriction properties. Nylon is often used for mobile parts with a high degree of abrasion.
Wide application for most engineering tasks.
CHARACTERISTICS PLEXIWIRE NYLON FILAMENT
extruder temperature

250°С - 265°С
platform temperature

100°С - 120°С
Printing speed

25 - 50 mm/s
Coils

100 / 200 / 300 / 400 m
Coil weight

0.275 / 0.55 / 0.825 / 1.1 kg
Recommendations:
Nylon should be dried well before printing. It is one of the most capricious plastics in the matter of absorbing moisture from the environment. Also we recommend to store Nylon in the closed packages and to dry in avoidance of accumulation of excess moisture from time to time.
Use Nylon to print small models. Nylon is very similar to ABS in printing - low interlayer adhesion and high shrinkage ratio. We recommend printing small-sized models.
Use an FDM/FFF printer with a closed build envelope. Such step will improve adhesion and reduce shrinkage of the finished model both during printing and during cooling after printing.
Use Nylon as intended. This is a complex engineering plastic, quite difficult and capricious both in print and in storage. We do not recommend using Nylon as a general purpose plastic for broad purposes.