Plexiwire Model Resin is a basic photopolymer resin for 3D printing. This is a versatile photopolymer suitable for most tasks with LCD and DLP printing. The resin is easy to use and provides a stable qualitative result. Due to the optimal price/quality ratio, this product will suit both beginners in photopolymer printing and those who use printing for professional purposes.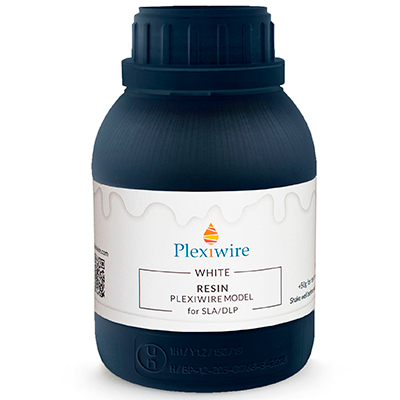 Plexiwire Model Resin - is:
Accuracy - perfectly prints even the smallest details, minimum parasitic illumination.
Speed - Illumination speed from 3 sec.
Rigidity - the material is resistant to deformation: keeps the shape under permissible loads.
Strength - the polymer is not fragile, easily separable from the platform without damage.
Fluidity - the resin has optimal viscosity for both printing and post-processing of the printed model.
Low shrinkage - you get the detail exactly the dimensions you set on your computer.
Chemical and thermal stability - the polymer remains hard when heated, does not dissolve in organic solvents and does not lose its properties during long-term washing.
PLEXIWIRE MODEL RESIN FEATURES
Colors:
White

Black

Grey

Blue

Red
Recommendations:
Resin is compatible with LCD and DLP printers with a wavelength of up to 405 nm. For example: Anycubic Photon, Wanhao D7, Phrozen Shuffle.
The optimal illumination time of the layer depends on many factors. It is better to select it specifically for your printer and tasks. To select the illumination mode, an additional 50 g of resin is provided.
If the model is difficult to separate from the platform or its lower part cracks when removed, you need to reduce the illumination time of the first layers.
The model is washed in alcohol solvents such as ethanol and isopropanol. If the model has many narrow inaccessible areas, washing is better done in an ultrasonic bath.
Ultraviolet light is used for re-illumination, for example, from 365 nm LEDs. The flashing lasts several hours. If there is no UV lamp, you can just leave the model in the sun for a couple of days. In any case, you need to try to illuminate the model equally from all sides.