Plexiwire Resin Model is a basic 3D printing photopolymer resin primarily used for general modeling and printing non-functional parts. It is a versatile photopolymer for most LCD and DLP printing applications. The resin is easy to use and guarantees consistently high product quality. Thanks to its optimal price/quality ratio, this product is ideal for photopolymer printing beginners and professionals.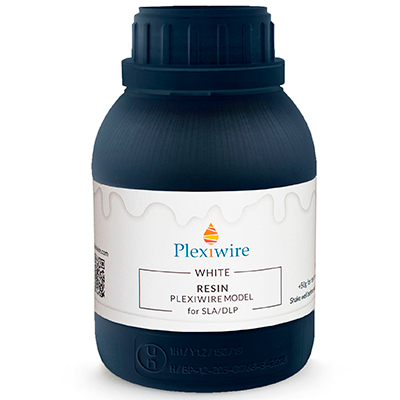 Plexiwire Model Resin - is:
Accuracy - Perfectly prints even the finest details, with minimal stray backlighting.
Speed - Lightning speed from 2 sec.
Stiffness - the material is resistant to deformation; it holds its shape under permissible loads.
Flowability - resin has optimum viscosity for both printing and subsequent processing of the printed model.
Low shrinkage - If you choose the proper printing parameters, you will get a part with minimal shrinkage.
Chemical and thermal stability - the polymer remains rigid when heated, does not dissolve in organic solvents, and does not lose its properties with prolonged washing.
PLEXIWIRE MODEL RESIN FEATURES
PACKING

0.5 kg + 50 g for test printing
Colors:
White

Black

Grey

Blue

Red

Marine

Green
Recommendations:
The optimal time of illumination of the layer depends on many factors. It is best selected specifically for your printer and application. An additional 50 g of resin is available to choose the illumination mode.
The illumination is insufficient if you have not printed small details or the model is sticky and soft after printing. It is necessary to increase the illumination time of the main layers. If you notice parasitic backlighting: "swelling" of holes, curing of excess polymer on the edges of the model - the backlighting should be reduced.
If the model is difficult to separate from the platform or its lower part cracks when removed, it is necessary to reduce the illumination time of the first layers.
The 3d mola is compatible with LCD and DLP printers with light wavelengths up to 405 nm.
The model is washed in alcoholic solvents such as ethanol and isopropanol. If the model has many narrow, hard-to-reach places, washing it in an ultrasonic bath is better.