Plexiwire FLEX is a thermoplastic elastomer on the basic of thermopolyurethane (TPU), which combines the properties of rubber and plastic. This filament has excellent adhesion and low shrinkage ratio, resistance to load impacts and to bending, is resistant to abrasion, to oils and lubricants, and to many solvents. FLEX has a wide operational temperature range, from -40 to +70, which in total allows you to use parts printed from this filament in a wide variety of industries and consumer groups. Flexible FLEX-plastic is used for the manufacture of automotive parts, medical devices, shoes, for products requiring multiple bending and straightening, due to its properties. Printing modes are slightly different from those applicable for solid polymers, in particular, it is a low printing speed about 30 mm/s, the use of direct filament supply to the extruder. However, as wide a range of FLEX properties as possible, so wide a range of print settings it can support.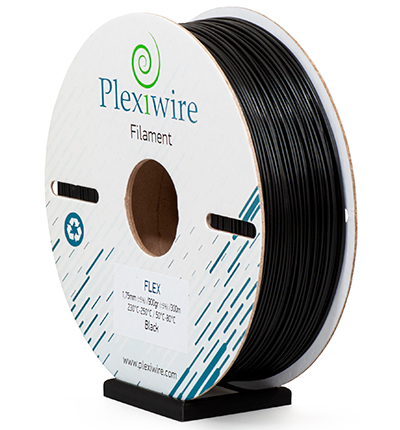 FLEX is:
Flexibility - a model printed from FLEX can undergo multiple bends while properties retention
High wear resistance - FLEX is resistant to many acids and alkalis, low erasure ratio
Maximum tensile at break - parts printed with FLEX plastic can stretch up to 300% while properties retention
Temperature resistance - FLEX can tolerate high temperatures
CHARACTERISTICS PLEXIWIRE FLEX FILAMENT
extruder temperature

230°С - 250°С
platform temperature

50°С - 80°С
PRINTING SPEED

30 - 55 mm/s
COILS

100 / 200 / 300 meters
COIL WEIGHT

0.3 / 0.6 / 0.9 kg
Recommendations:
Low print speed. Do not set the printing speed above 30 mm/s for high-quality printing of models.
Use a direct filament printer. FLEX can also be used in bowden printers, but we recommend direct feed to avoid many printing difficulties.