Plexiwire Basic Durable Resinresin for 3D printers is the most versatile material among functional engineering resins. Basic Durable resin has material properties with high impact strength, withstands deformations that lead to bending and performs well under constant load without breaking or deforming.
Plexiwire Basic Durable Resin works with a variety of UV LCD and DLP 3D printers. This resin is ideal for solving many engineering tasks, and the ease of printing makes it possible to use it for general purposes.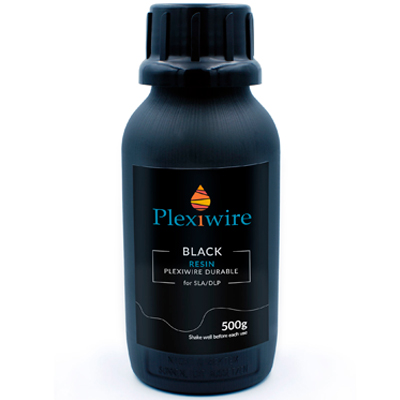 Plexiwire Basic Durable Resin is:
Engineering properties - has mechanical properties suitable for solving many engineering tasks.
Plasticity - Basic Durable resin is not brittle and can withstand bending, shock loads, compression.
Compatibility - This resin is compatible with both DLP/LCD UV printers and SLA printers, including FormLabs Series 1,2 and 3.
Simplicity - in terms of properties, this resin has no difficulties in printing and can be used by engineers and amateurs of any level and experience in 3D printing.
PLEXIWIRE BASIC DURABLE RESIN FEATURES
Recommendations:
Pay attention to the post-processing of printed models. In order to guarantee the mechanical properties of printed products, it is necessary to thoroughly wash the model after printing and to illuminate it so that the model acquires all the necessary properties.
For models with thin elements, add time to the printing of the base layer. We recommend adding about 1 second depending on your settings.
Do not use for printing rigid products. You just won't get them. Printed models are more flexible than models printed with Vasic Rigid.
Shake the bottle well before printing. This resin is black in color, so be sure to shake the resin thoroughly before pouring the resin into the printer.