Plexiwire Basic Flexible Resin is a highly elastic rigid resin with a Shore hardness of 86A suitable for the production of functional end-use parts with TPU properties. Resin has all the properties that distinguish flexible materials, but at the same time it has sufficient rigidity and withstands deformation.
Plexiwire Basic Flexible is extremely easy to process because it has a low viscosity compared to other flexible photopolymer resins on the market. In addition, it hardens quickly due to its transparency. It is widely used in many fields.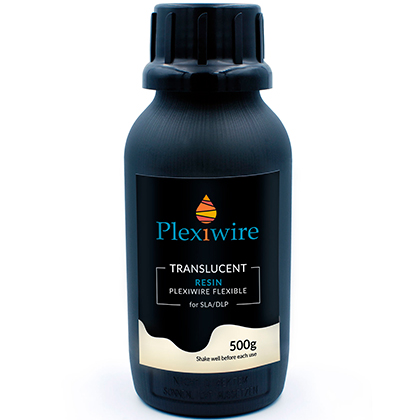 Plexiwire Basic Flexible Resin is:
Elasticity - the material has exactly the same elasticity as TPU products.
Hardness - products made of this resin have a hardness of 86 according to Shore D, so they can withstand considerable deformations.
Chemical resistance - like ordinary TPU products, printed with Plexiwire Basic Flexible are resistant to many chemical environments.
Ease of use - despite the properties, it is not necessary to have additional experience in using this resin.
PLEXIWIRE BASIC FLEXIBLE RESIN FEATURES
TENSILE STRENGTH

14.5 MPa
Recommendations:
Add 1.5% to the linear dimensions of your model, or use the appropriate slicer function. The fact is that although the material has a fairly low shrinkage, its properties can cause an error in the printing process.
Wash the printed model thoroughly. We recommend an ultrasonic cleaner for complex, printed models.